99% Content Non-ionic Anti-static Agent For Polyester Fiber
Non-ionic anti-static agent SK-200for polyester fiber Application: Used as inner-added anti-static additive or anti-static agent for external use after dilution in the manufacture of polyester, acrylic fibers and polyurethane with good anti-static effect, as well as anti-static agent for silk and wool fabric. Anti-static component in chemical fiber oil Anti-static agent for conveyer belt
Product Details
Non-ionic anti-static agent SK-200for polyester fiber
Properties:
Appearance: milky white or cream-colored flake
Ionicity: non-ionic
pH value: 6-8
Activator content: 99%
Application:
Used as inner-added anti-static additive or anti-static agent for external use after dilution in the manufacture of polyester, acrylic fibers and polyurethane with good anti-static effect, as well as anti-static agent for silk and wool fabric.
Anti-static component in chemical fiber oil
Anti-static agent for conveyer belt
Characteristic:
It is a environment friendly anti-static agent with formaldehyde free, APEO free and heavy metal free.
It feature excellent anti-static effect with electrostatic half-life period of 0.01s and eectrical resistance reduced from 1×1012 to 1×106 of treated synthetic fabric.
It can improve the luster and smoothness of the synthetic fiber, as well as good hydrophily.
It has no negative effect on the whiteness and luster of the treated fabric when used as an anti-static agent.
Uses:
Dilute to conventional product of 6%-15%, the suggested dosage is 2%-4% (omf). The practical dosage is determined according to the material and anti-static requirement with trials.
Package and storage:
25kg in paper bag. Store in ventilated shade within a valid period of half year, and keep away from thermal, sunshine and rain.
RFQ:

Q1:Can you supply samples?
Yes, Simo can supply you samples for free charge.

Q2:What's your payment term?
Usually L/C, T/T, D/P, D/A, it is determined by our negotiation.
Q3:Can you customize product?
Yes, Simo can supply you products according to your requirement.
Q4:Which country are your customers mainly distributed in?
Russia, America, UAE, Saudi Arab and so on.
Q5:Industry research and development
Every year, the company hires famous domestic and foreign experts of petroleum industry to guide and teach the factory. And new environmental cementing and drilling additives are being developed and upgraded by our R&D team.
Workshop Show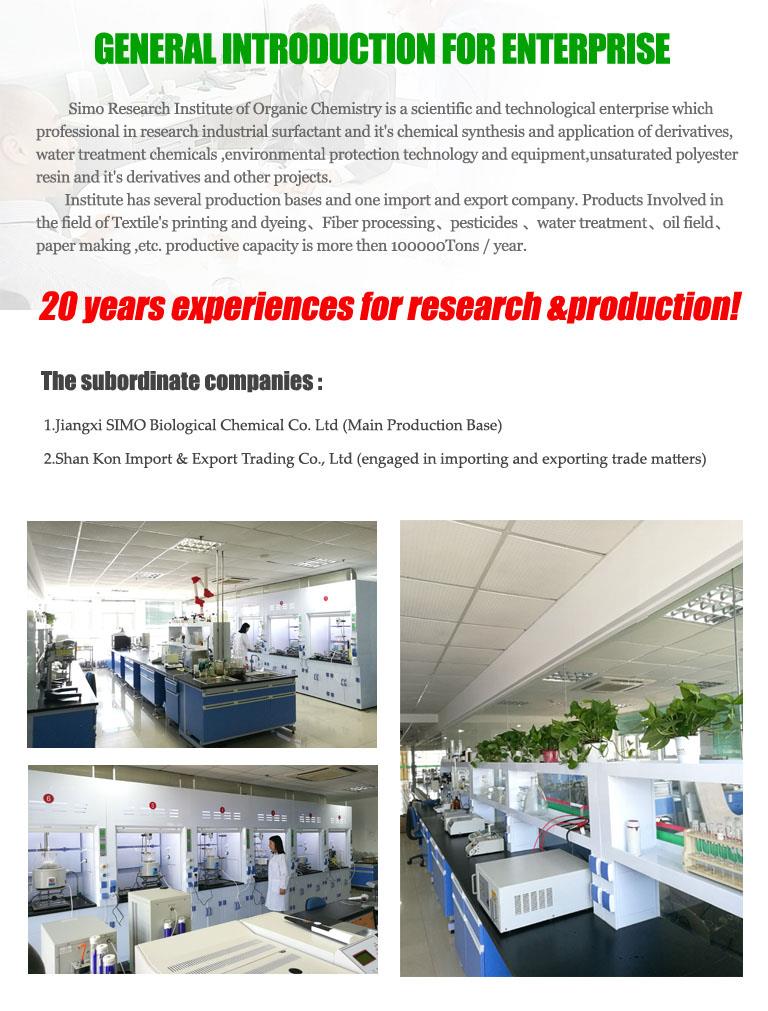 As one of the leading manufacturers and suppliers for 99% content non-ionic anti-static agent for polyester fiber, we always pay high attention to quality and performance. Offering samples freely, we warmly welcome you to buy our quality products made in China. Don't hesitate to enjoy our low price and excellent service any more.
Hot Tags: 99% content non-ionic anti-static agent for polyester fiber, China, manufacturers, suppliers, low price, free sample, made in China
Inquiry
Related Products