80% Purity Polyester Fiber Antistatic Agent
Polyester fiber antistatic agent SK-212​ Nature: Appearance: pale yellow transparent liquid Ionicity: weak cation PH value: 6-8 Active matter content %: 80
Product Details
Polyester fiber antistatic agent SK-212
Nature:
Appearance: pale yellow transparent liquid
Ionicity: weak cation
PH value: 6-8
Active matter content %: 80
Purpose:
1. This product is used for antistatic finishing of synthetic fibers such as polyester, acrylic, and has an excellent antistatic effect. It can also be used to eliminate the static electricity of silk, wool and other fabrics.
2. Used as anti-static component in synthetic oil compound.
3. Antistatic agent for conveyor belt
4. The antistatic processing of the special needs of antistatic materials.
Feature:
1. This product does not contain formaldehyde, APEO and heavy metal ions, is an environmentally friendly antistatic agent.
2. Excellent antistatic properties, the fabric cloth which finished by the product, static exhausted can reach 0.01second. Resistance value can drop from 1×1012(undigested) to 1×106.
3、To enhance the feel of the fabric, and give the fabric a good hydrophilic.
4、This product is no adverse effects on the whiteness and color of the fabric.
Method of application:
First dilution the product into 8% of the conventional products, the dosage is generally about 2-4% of the fabric weight. Other materials is determined the amount and proportion after test.
Packaging and Storage: 120Kg Plastic packaging. It is stored in cool and ventilated place to prevent the high temperature, sunshine, and rain. Storage period is half a year.
RFQ:

Q1:Can you supply samples?
Yes, Simo can supply you samples for free charge.

Q2:What's your payment term?
Usually L/C, T/T, D/P, D/A, it is determined by our negotiation.
Q3:Can you customize product?
Yes, Simo can supply you products according to your requirement.
Q4:Which country are your customers mainly distributed in?
Russia, America, UAE, Saudi Arab and so on.
Q5:Industry research and development
Every year, the company hires famous domestic and foreign experts of petroleum industry to guide and teach the factory. And new environmental cementing and drilling additives are being developed and upgraded by our R&D team.
Workshop Show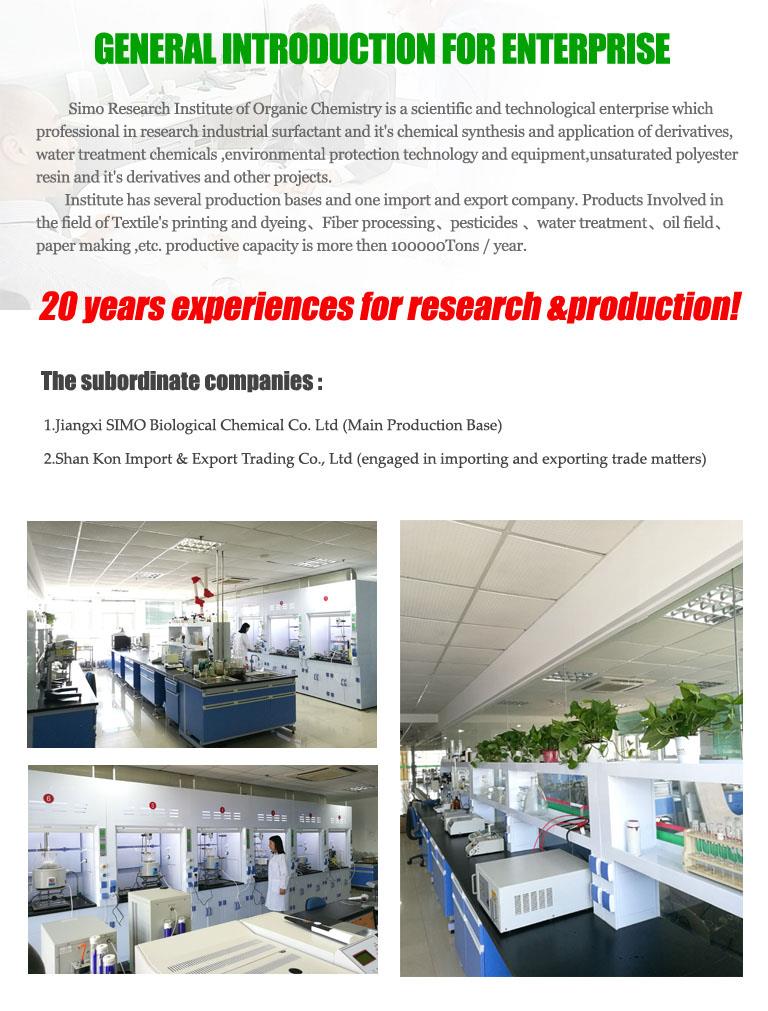 As one of the leading manufacturers and suppliers for 80% purity polyester fiber antistatic agent, we always pay high attention to quality and performance. Offering samples freely, we warmly welcome you to buy our quality products made in China. Don't hesitate to enjoy our low price and excellent service any more.
Hot Tags: 80% purity polyester fiber antistatic agent, China, manufacturers, suppliers, low price, free sample, made in China
Inquiry
Related Products