Slow Setting- Rapid Solidification Type (cationic)
Our New asphalt emulsifiers including Rapid setting type, Slow setting type, Medium setting type,super slow setting type,Slow crack rapid solidification type and nonionic emulsifier for remixed formulation. Our products can solve your needs of emulsification and application requirements by different schemes...
Product Details
Slow setting- rapid solidification type SM-LS(cationic)
Product Specification:
Name

Slow crack rapid solidification type SM-LS (cationic)
Micro surfacing construction(1hour concretion)

Test project

Standard

Test result

Appearance

Creamy white paste or wax

Meet

Chromaticity(times)

10-30

15

Content

80±2

80

Water

10±2

8

Alcohol assisted solvent

10±2

12

PH(1%water solution)

6.5-7.5

6.8

Water solubility

easy to dissolve with no impurities under warm water 40-60C.the solution is stable after cooling

Meet
Features:
1. The permitted opening time is 1-2 hours.
2. Adhesion to the aggregate is nearly 100%.
3. No acid adjustment is required when emulsifying.
4. The softening point of 85 ℃.
5. Excellent water resistance.
Reference dosage:
Ordinary bitumen emulsification: 1-1.5% of the total amount of emulsion
Modified bituminous emulsification: 2-2.5% of the total amount of emulsion
The specific optimal dosage should be determined by the technician according to the test of asphalt quality.
Workshop

How to distinguish asphalt emulsifier anion type from cation type?


Answer:Cationic bitumen emulsifier has a positive charge when as emulsified asphalt.Anionic bitumen emulsifiers are generally organic acids and salts.Both of them are surfactants, which can effectively reduce the interfacial tension of different phases and achieve the goal of emulsification.When two emulsifiers are used in a mixture of emulsified asphalt, they encourage each other to break apart。In other words, anionic emulsifiers and cationic emulsifiers generally cannot be used together, but there are exceptions.
We can order the production plant or OEM, according to customer demand for products LOGO and small packaging, We sincerely welcome customers at home and abroad to visit our factory and become our long-term partner.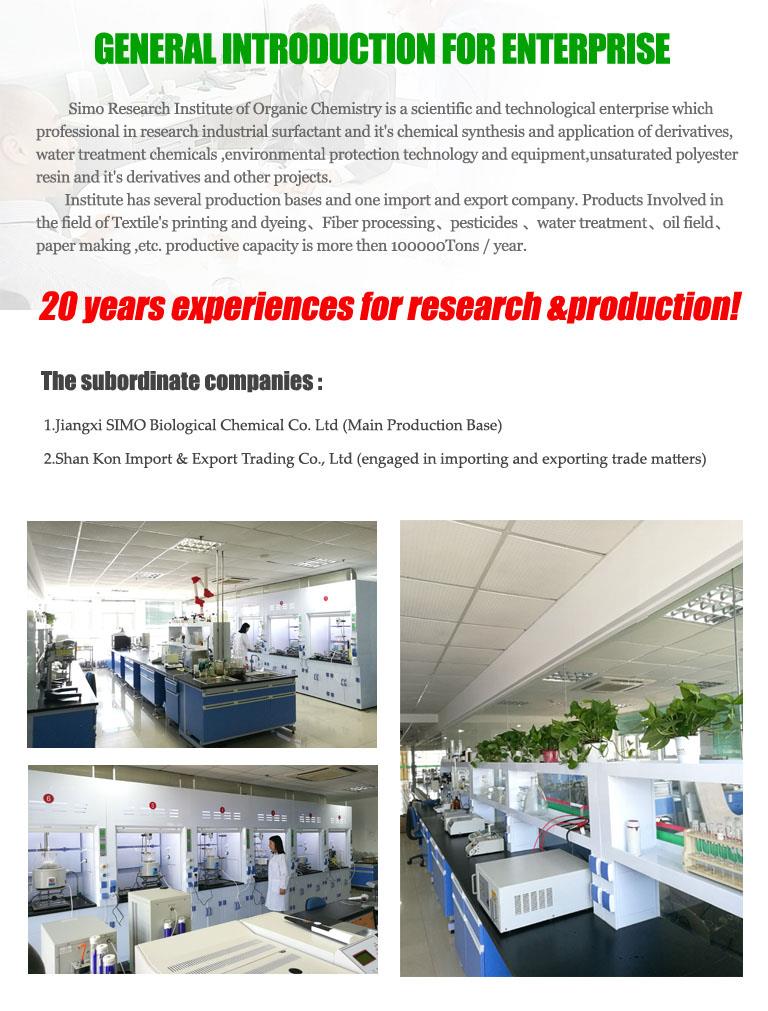 CONTACT US
If you are interesting in our products or you still have any questions, pls contact me by the following ways, thank you first and I wish all the best in your career.
Email:jinganna@simochem.com
Tel:86-575-82709569  
Wechat:HX827412003
Contact:Zoey




As one of the leading manufacturers and suppliers for Slow Setting- Rapid Solidification Type (cationic), we always pay high attention to quality and performance. Offering samples freely, we warmly welcome you to buy our quality products made in China. Don't hesitate to enjoy our low price and excellent service any more.
Hot Tags: Slow Setting- Rapid Solidification Type (cationic), China, manufacturers, suppliers, low price, free sample, made in China
Inquiry
Related Products