Rapid Setting Type Asphalt Emulsifier Cationic Type
Rapid setting type asphalt emulsifier SM-LF (Cationic) Characteristics: 1. Super fast construction demulsification. 2. With the aggregate adhesion of nearly 100%. 3. Emulsification without acid.
Product Details
Rapid setting type asphalt emulsifier SM-LF (Cationic)
Product indicator:
Name

Rapid setting type asphalt emulsifier SM-LF( Cationic )

Test items

Standard

Test result

Appearance

Yellow brown paste or viscous liquid

Meet

Color (times)

60-100

80

content(%)

80±2

80.5

Solvent water (%)

20±2

19.5

PH value (1% aqueous solution)

6.5-7.5

7.2

Water solubility

Room temperature water is soluble and no impurities

Meet

Features:
1. Super fast construction demulsification.
2. With the aggregate adhesion of nearly 100%.
3. Emulsification without acid.


Usage:
1. Used as emulsifier for SBS emulsion preparation , and has excellent compatibility with SBS.
2. Used as emulsifier for Emulsified asphalt preparation, emulsified asphalt can be used in the following steps:
1) for the slurry coating process;
2) for ultra-thin cover process;
3) white change to black process for old cement road;
4) for the pit repair process;
5) for the crack filling process;
6) for super micro-surface processes;
7) for the simultaneous gravel sealing process.


Reference dosage:
The total amount of 0.3% of the emulsion, please ask technician to decide the best dosage according to the quality of asphalt .
Questions:

Q1: Are you factory or trader?
A: We're factory. So we have the advantage of factory's price, as well as the advantage of risk control and responsibility!
Q2: What's your MOQ?
A: Usually, our MOQ is 200Kg.
Q3: How many payment terms do you support?
A: Alibaba Trade Assurance, T/T, L/C, PayPal, West Union, etc.
Q4: What's your normal delivery time?
A: About two weeks after payment.
Q5: How can I get a sample?
A: Free samples can be provided to you by FedEx, DHL, TNT, UPS or EMS. Usually, the quantity of free sample is 300-700g.Or if you need really more, it's also ok. But pls note, the express cost is paid by the buyers.
Q6: If there are some problems with your products, how to solve it?
A: First, we will be responsible for all the products; If you use Trade Assurance, Alibaba will compensate it to protect your profits.
Q7. Quality Control:
We have our own experienced QC.
There will be strict inspection and testing for every order before shipping out.
Q8. After Services:
a. Our sales team will response for your question within 24 hours (Holidays Excluded)
b. Technical Support will be available in any time
c. Free replacement will provide once the failure confirmed caused by our product quality.
How about our company?
Pre-sale service
1, we pay most attention to timeliness, commit to any buyers: We will 24 hours online answer the phone, and answer any questions relating to the asphalt for customers, ensure that customers in the hope of time, get our high quality goods.
2, the quality is not only our company to discuss the project. Do we force is customer satisfaction of quality goods, all products are in accordance with the label, standardized management, good faith business!
3, if the customer need the sample, we will arrange the samples in the shortest possible time to send, in order to show the sincerity of cooperation, the sample charge and freight shall be borne by us.
The delivery process
Your phone, our price and samples, your deposit, the goods to your hands - the balance payment
After-sales service
Sell the goods, does not mean no going back and forth between us. We are looking forward to, after you use our products, will once again choose handan delay gold trading company!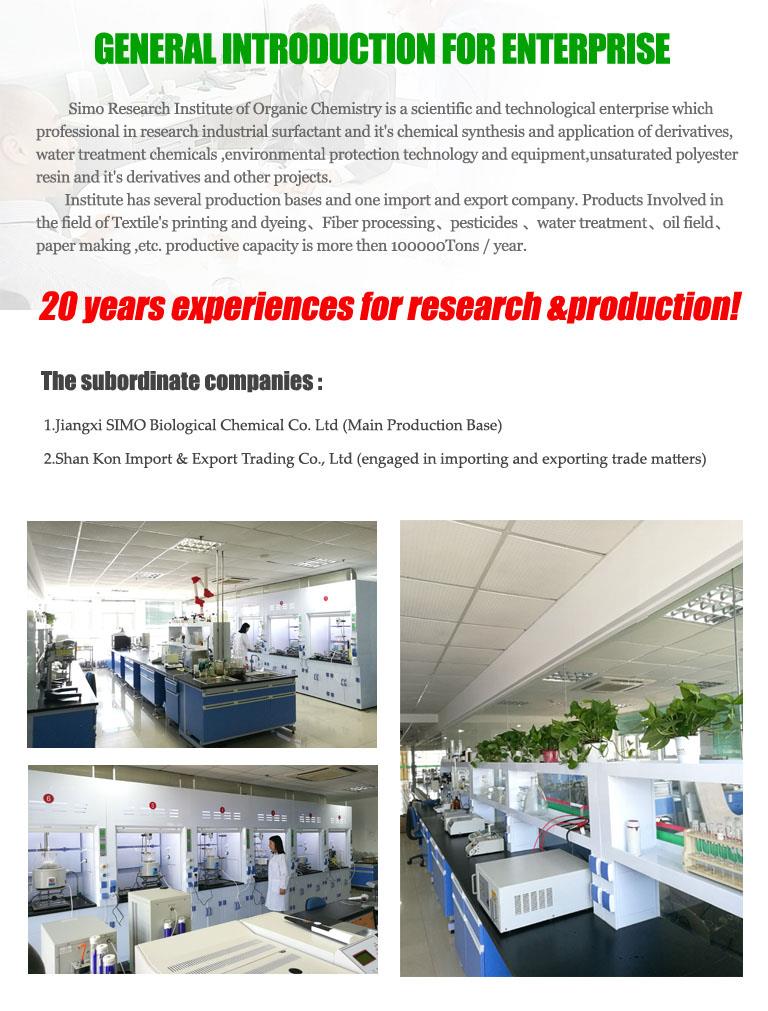 Head Office: SIMO Research Institute of Organic Chemistry
Add:Room 1202, Jincheng Building, Shangyu City, Zhejiang Province, China
Production base: Jiangxi SIMO Biological Chemical Co.,Ltd. 
Import & export company : Shan Kon Import & Export Trading Co.,Ltd.
Tel:86-575-82709569  
Wechat:HX827412003
Contact:Zoey




As one of the leading manufacturers and suppliers for rapid setting type asphalt emulsifier cationic type, we always pay high attention to quality and performance. Offering samples freely, we warmly welcome you to buy our quality products made in China. Don't hesitate to enjoy our low price and excellent service any more.
Hot Tags: rapid setting type asphalt emulsifier cationic type, China, manufacturers, suppliers, low price, free sample, made in China
Inquiry
Related Products